I actually realized today that I haven't posted here in over six months, which I don't know is a positive thing ("I'm busy!") or a negative one ("Been WAY too busy."). I will state, however, that
busy
is most assuredly a relative term. I can't tell you how many times I've heard someone claim that they're
so
crazed that they barely breathe and then, in their next stolen breath, go on to say that they just finished reading that New York Times bestseller. ("You've read it, right? Being a literature professor and all?") I just smile and shake my head, thinking
You have time to read for pleasure?
Because I don't. Not lately.
Reasons exist for my lack of time to post here, though, and they spring from what is essentially good news. Since a quick review of past posts speaks of my propensity to bitch about all things writer-related, big or small, I'm going to focus on the Good News (TM) today. Why not, right? Be positive!
For example, I've had two stories accepted for publication in
DNA
's April 2016 issue. That's good news! Please
click here to access the site and read "Hobgoblins" and "Desert Honey
," if you are so inclined.
More good news: I've been named the new Publications Chair for the
National League of American Pen Women
, an organization for creative women (writers, dancers, artists, composers, etc.) that I had the pleasure of joining back in 2012. This means I'll be responsible for overseeing all of the League's publications, including
Pen Woman magazine
, the annual art calendar, the web site, social media, and
Pen Woman Press
, which is an exclusive publisher for the League. If you're a creative woman, why not pop over to
the League's web site
and learn more? Our type needs to stick together.
Even more good news: My writers' group is resurrected after a very long hiatus. That actually should be filed under
flipping fantastic news
, because without the rigor of regular meetings, I do what most writers tend to do: Stare at a blank screen for about five minutes before deciding that the hall closet really-really-REALLY needs cleaning out. My fellow writers won't be impressed with my closet-junk organizational skills, however, so it's time to get my tail back into my office chair. Nothing inspires me quite like a looming deadline.
Potentially good news: I'm again actively looking for an agent to represent
The Devil's Belt
, my historical novel. Here's the pitch:
After a decade of study in London, young Doctor Thomas Dorset returns to his Long Island hometown in 1777 to find it occupied by the British army. Ostracized by neighbors for his Tory mindset, he proposes teaching respected local apothecary Katie Pearce "new" medicine in exchange for a partnership. Working alongside the irascible beauty, Thomas's eyes are opened to the atrocities that Mattituck's people endure under martial law. When a jealous British captain burns down his home and kills a loved one, Thomas must make a choice: Go to Connecticut and start over, or join his childhood friends and fight back, risking everything and everyone he has left.
No other Revolutionary War novel examines the quiet misery, covert resistance, and patriotic spirit of Long Islanders during the American Revolution as The Devil's Belt does.
Would you buy the book, based on that description? Opine, if you will, in the comments below.
Finally, because I feel like it, I'll share a few memes here that made me laugh:
Would've come in handy last month, when I was teaching it.
Self explanatory.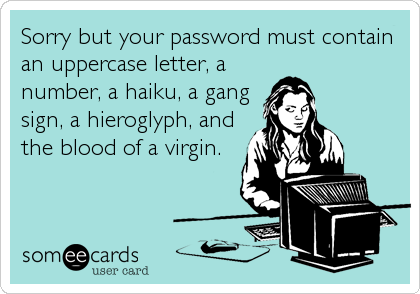 Seems legit.
If you have any like-minded memes to share, please feel free to post them (or links) in the comments below.
And
that's all she wrote
. For now, at least. Hopefully, I won't make you wait another six months.
Peace,
K